The winter season is upon us in the Northeast, but we're dreaming of a new year of travel… filled with adventure and exploration. 2021 taught us we can travel again, albeit with necessary precautions, and 2022 will see more travelers, more curiosity and more excitement as a new normal sets in, and the world becomes approachable once again.
At the end of last year, we asked our guests to share their memories and experiences traveling with us in 2021… enclosed are a few of their stories and photos. We hope it shows how fulfilling travel truly is, despite the nuances of navigating a new world.
National Parks
Grand Teton & Yellowstone Trip – This is a trip that I have wanted to go on for a while, because I heard the scenery was out of this world. COVID in 2020, cancelled our trip, but I was determined to go. So, in 2021 the trip was a go. We met a great group of people, that we enjoyed spending time with. The raft trip, on the Snake River, was one of the high lights of the trip. We saw the Tetons from a different perspective, floating down the Snake River. It was so serene, floating on the river, watching the rushing waters beneath us and the beautiful scenery in the background. The first picture was taken from our raft and it shows our guide and some of the people in the boat having a good time. The next picture captured the silhouette of 2 people from our tour, enjoying the view of the Tetons from our hotel. My last shot, was actually taken with my camera, but by the tour guide. It is a picture of everyone on the tour. It was another high light of our trip, a picture of our group and the beautiful view of the waterfall in the Grand Canyon of Yellowstone in the background. The scenery on this trip and the views we got to see, were well worth the wait.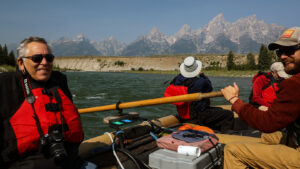 France River Cruising
I have just returned from THE BEST vacation I have ever had in my life. It was entirely perfect, beginning to end, and I loved Tauck's attention to detail, while spoiling us 24 passengers. Our Tauck directors were Elisabeth Minik, Sofia V, and Shireen (on the ms Emerald). These wonderful ladies took great care of us, and showed us flexibility (and great shopping) on our land journeys. Every aspect of our tour was handled, including a pass to use public restrooms without paying (!). I was nearly overwhelmed by the ease and luxury of this tour.
Response to Covid: the ship had a mandatory mask policy unless outside or eating or drinking. All guests and staff willingly complied. Shireen arranged for all of us to get Covid 19 antigen tests at pharmacies at every stop, coordinating to be within the 72 hours of our individual departures from France. Shireen and her staff also made it possible for us to all apply (and get) our French pass sanitaire, allowing free access to bars, restaurants and museums, while masked. All of the coach and trains required masks, and hand sanitizers were everywhere. The ship made it easy to social-distance in the dining rooms and public spaces. Tauck takes Covid 19 breakthroughs seriously, and does an EXCELLENT job is preventing spread.
We were lucky to be on a ship with only 24 passengers, and truly received VIP treatment and a big "welcome back" from ship crew, Tauck employees and local tour guides. I am looking forward to my next cruise with Tauck.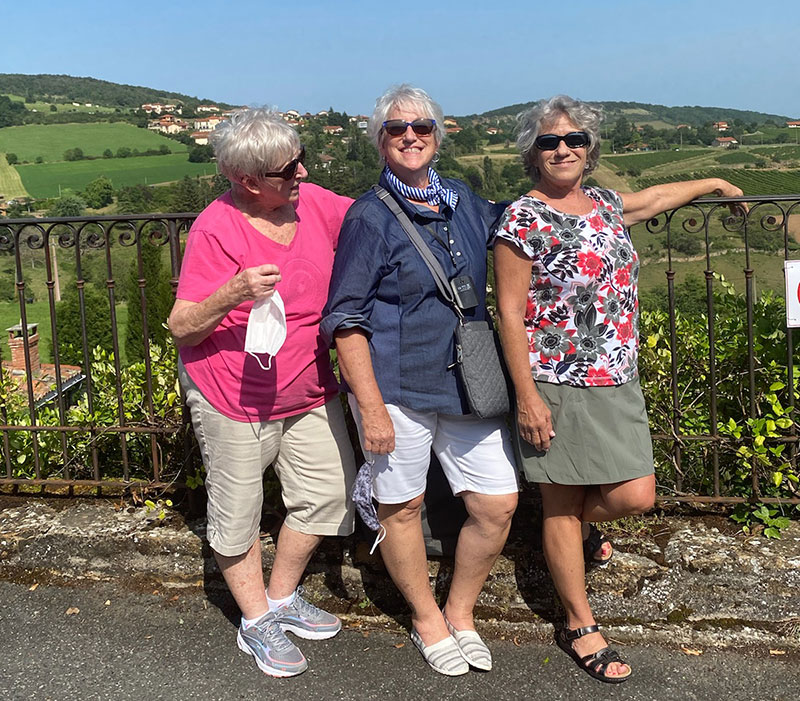 Africa
In August 2021, my wife and I returned for our fourth African safari trip. East Africa is a magical place with unmatched opportunities to see beautiful wildlife up close in their natural environment. We have enjoyed our travels throughout the world, but East Africa is among our top favorite destinations. We captured the attached image of a stunning leopard from his perch in a tree In Serengeti and a graceful giraffe grazing. We were able to take some true "National Geographic" photos on our safari. Witnessing the migration of one and a half million wildebeest on the move is an unforgettable experience. We saw a wide variety of wildlife during our game drives. An unforgettable experience enhanced by a great Tauck tour Director, Chris Mancini and friendly fellow Tauck guests.
Switzerland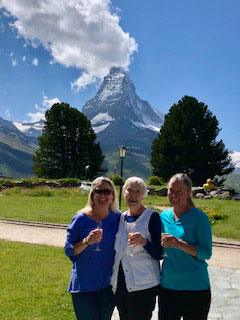 Going on the cog railroad way up high to see the Matterhorn led to one of the most precious days of my life. I was in Switzerland with my two daughters. We had fun taking selfies and sharing photo ops with the other excited tourists. After several hours up top our wonderful guide told us of a restaurant halfway down the mountain. My one daughter decided to hike down while the other daughter and I took the cog down. We had a wonderful lunch admiring the Matterhorn. Just as we finished, our hiker joined us quite by accident. She said it was a perfect time to have the glass of champagne I had promised (the photo). Then when we got back to our lovely hotel, we had snacks for dinner on our balcony with a bottle of wine while we chatted quietly looking at the Matterhorn. A truly wonderful day.
Galápagos
On the day our expeditionary yacht 'MV Isabella II' arrived in the channel in between Fernandina and Isabela Islands, our captain spotted a whale spout in the distance. He had one of the guides announce on the ship's PA system that he was going to slow down and stop the engines so that anybody that wanted to could get into one of three provided zodiacs or pangas with their respective pilots. Well I wasted no time ! Once we were embarked on the zodiac, I felt almost like a modern 'whale watcher' , in hot pursuit of one of the largest single living organisms on planet Earth! It was non other than a 25 yard long blue whale!!! Wow! What a thrilling ride it was feeling the cool ocean spray on our faces whilst keeping abreast of this magnificent specimen of a leviathan! I shall never forget the look on our group's faces while experiencing this 'once-in-a-lifetime' event! I have never seen a Blue Whale ever before. And I have not seen one since. Truly, this was a serendipitous, and unique moment in our lives , probably never again to be repeated. And I shall treasure this memory for the rest of my life.
More 2021 Memories
They say a picture is worth a thousand words – and we would love to hear from you about your Tauck journey by sharing your photos and stories with fellow travelers (like the ones you see here). We look forward to fulfilling your travel dreams in 2022, and also look forward to hearing about them! Please save this link to share your journey once you return home.

Достаточно просто перейти по
ссылке
, и оформить любой совершенно займ за 15 минут.
Кредиты оформляются быстро, документов не требуют, а что нужно ещё для получения займа
онлайн за 15 минут, не понимаю.