The Old West
Naturally inspiring, the landscapes of Western North America inspire the imagination with an array of wonders that seem endless. Natural history is just, however, one aspect – it is the combination of natural and human history that creates a deeper understanding today. Join us for a look at a few of the great stories of the "Old West."

Get to Know
TA Ranch
One of the most authentic destinations in the western expanses of Wyoming is TA Ranch, and it is a favorite experience on several of our Western USA trips. Tauck Director Jim Sundby provides some excellent behind-the-scenes insights into the working ranch and sets the stage to explore its historic role in the Johnson County War. We've put together some additional content, including videos and a podcast, to provide more insights into one of guest's favorite travel experiences.

Perso

nalities
William F. Cody, "Buffalo Bill Cody"
If you asked historians about legendary Old West personalities, "Buffalo Bill Cody" is on just about everyone's list. Buffalo Bill Center of the West is actually five museums in one, in addition to special "wild west experiences." History runs deep here, showcasing everything from artifacts to art in the different museums – but the centerpiece is the story of William F. Cody as told in its own museum – the Buffalo Bill Museum. We've put together some great videos, podcasts and historic insights (including a few presentations by the curator of the Buffalo Bill Center of the West), along with a short video about horseback riding on our family trip to Bryce Canyon.
Learn more about the Buffalo Bill Center of the West

The Old West and the Arts
Reading Lists and Films
A good page-turner or a must-see film – our curated list of books and movies truly captures the essence of America's Old West. Whether fiction or biography, classic western novels tell the stories of the American frontier. And when it comes to films, tales of the Old West live on forever – from Butch Cassidy and the Sundance Kid to the epic How The West Was Won to classic spaghetti westerns.
View Reading List       View Film List
Jackson Lake Lodge
Blue Heron Huckleberry Mojito
A little summer respite from our friends at the Jackson Lake Lodge: "During its short summer growing season in parts of the Rocky Mountain Range, the small, tart, dark purple huckleberry is a favorite of both humans and bears alike. Sometimes referred to as a wild mountain blueberry, huckleberries cannot be cultivated and only grow in the wild, which is why you're unlikely to find them in your local supermarket. Wild blueberries – which are smaller and more tart than the plump, sweet berries found in your grocery store's produce section – are often available in the freezer aisle of some specialty grocery stores and organic markets, and will work as an acceptable substitute. A Blue Heron Lounge signature, this refreshing twist on a classic uses local wild huckleberries, and is perfect for sipping watching the sun set over the Tetons from the Blue Heron Terrace at Jackson Lake Lodge – or while simply relaxing on your front porch."
Servings: One Cocktail
.5 ounce huckleberry syrup (recipe right)

.5 ounce fresh-squeezed lime juice

2 sprigs of fresh mint

2 ounces good quality white rum

Generous splash of club soda

For serving: small mint sprig, lime wedge, and 3-4 huckleberries
In a cocktail shaker, muddle syrup, lime juice, and mint sprigs until well incorporated. Add rum. Fill shaker with ice, cover, and shake vigorously until outside of shaker is very cold, about 15 seconds.
Strain into a tall Collins glass filled with ice. Top with club soda and garnish with mint, huckleberries and a lime wedge.
Huckleberry Syrup
This will make more than enough syrup for a couple of cocktails. Use extra syrup on pancakes, or refrigerate for up to two weeks. For longer storage, syrup can be frozen for up to a year.
1 cup huckleberries

2 Tablespoons water

.5 cup sugar

Pinch of salt
Add all ingredients to a small saucepan over low heat. Bring to a gentle simmer, uncovered, while stirring occasionally. Let simmer until the berries have fully broken down, 10-15 minutes. Strain with a fine-mesh sieve, tapping the side of the sieve with spoon to extract all of the syrup. Do not press on solids. Discard solids. Cool syrup in refrigerator.

Ken Burns American Journeys
Mormon Row Historic District
Our longstanding partnership with documentary filmmakers Ken Burns and Dayton Duncan enrich our travel experiences on our journeys to the national parks. In this vignette created exclusively for Tauck, Dayton Duncan shares insights into Mormon Row Historic District, the "preservation of a culture that was fairly unique to the Western United States. On a larger scale the parks, aren't just great scenery… it's the story of who we are. Mormon Row… is one little slice in remembrance that it's also about what humans have done in the midst of this overwhelming nature."
The parks are near and dear to our hearts. Grand Teton Hammer Corps was an initiative for repairing the park's Mormon Row homesteader settlement, and was part of Tauck's grant to the Grand Teton National Park Foundation supporting the preservation of the historic district's landscapes and buildings.

The Great Outdoors
Boundary Ranch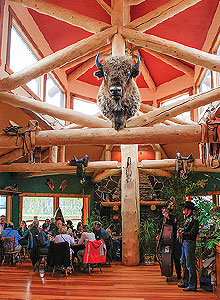 Legendary stories and personalities of the "Old West" aren't exclusive to the Western USA – they also abound in the great Western landscapes of Canada. Boundary Ranch, in Kananaskis Country, is a favorite destination of ours in the Canadian Rockies, and the Guinn family was key to cowboy legends throughout the province of Alberta. By way of introduction to the Guinn family and Alberta ranching, enjoy some curated  video and music content!
И мне бы очень не хотелось переплачивать за микрозайм на карту именно сейчас,
так как очень жаль денег.
На данный момент на нашем сайте
credit-n.ru
есть возможность оформить займ онлайн на сумму от 2 000 рублей.