National Parks, Through Nature's Eyes
95 years ago, this week, Tauck's first motor coach tour embarked on a new adventure through the byways of New England, exploring mountains and coastlines – and sites that today are part of the National Park System, from national parks to national monuments, national lakeshores and more. We invite you to join us and raise a glass in celebration as we look forward to the next 95 years!
Exploring North America's national parks is an emotional experience. You could be watching the sun rise in places like the Grand Canyon, tinting sandstone walls with hues of pink and orange. Or watching the sun set in Zion National Park, where canyons change colors before your eyes. You could be hiking, bicycling, river rafting, flightseeing, or horseback riding. Learning the stories of rock formations millions of years old – or seeing a herd of bison, a once-endangered wolf or a clockwork geyser in Yellowstone. You might be seeing a giant 275-foot-tall sequoia in Yosemite for the first or the 20th time, or discovering what unwinding in the solitude of the Canadian Rockies truly means – it is always emotional, and it never gets old. This week's edition is all about our passion for the national parks, preserved for generations to come.

The Power of Nature
National Parks – Through the Eyes of Tauck
Naturalist and conservationist John Muir wrote: "One touch of nature makes the whole world kin. We are now in the mountains, and they are in us, kindling enthusiasm… People find out that going to the mountains is going home; that wildness is a necessity; and that mountain parks are useful… as fountains of life." Join us for a look at the magnificent national parks of the US and Canada through the lens of our videographers who captured the essence of the national park experience with Tauck.

Tauck and the National Parks – The West
Reflections by Arthur Tauck Jr.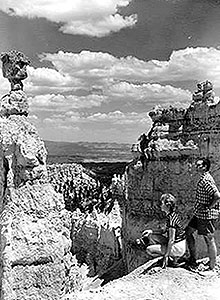 Arthur Tauck Jr. shares the story of Tauck's early days in the national parks of Western USA – the first tour operator to bring people to these national parks by air:
"People tend to have an emotional experience when they see these national parks… of going places and doing things they never thought they would ever have the opportunity to do… and they leave with a reborn spirit.
However, there is a long story regarding the start of our relationship with the national parks. We had some early conflicts with the major parks out West where lodging and sightseeing operations were granted by the National Park Service (NPS) to concessioners who did everything possible to prevent our tour coaches from even entering the parks.
In 1958, we were the first to develop air / land tours to the West. Prior to that, there were a number of tour operators running rail tours to the major parks. This suited the concessioners fine for they sold per capita sightseeing tours to those tour operators utilizing school bus transportation within the parks.
The concessioners, with the backing of the Park Service, would make us unload our guests from our sleek, modern motor coaches at the gate and put them on non-air conditioned older buses, often not in good working order, for the next few days. We took the stand that our public was being discriminated against only because they arrived by bus rather than by train or private automobile. Herein began a year-long battle before the Park Service to change their regulations; I personally spearheaded that battle directly with the Park Service and through tour operator associations.
A short story: There was a transportation concessioner in Mesa Verde National Park who gave up operating his less than perfect buses and acquiesced to let us tour with our vehicles. As our business grew, he decided to pop back into business to force us to use his bus rather than our own, but he never told or warned us. He chose to complain to the National Park Service and let them enforce his concession rights. National Park Service police chased down one of our buses, stopped it at a dangerous embankment, and arrested and jailed Dave Chambers, our Tauck Director, and transferred our guests to an older bus for the remainder of their visit.
What did we do? I advised the concessioner and NPS at Mesa Verde that I was personally going to run the next tour and that a guest in the back of the bus was going to be Frank Goggins, our attorney, and that I wanted them to be consistent and arrest me. Frank was on the tour to bail me out. And also, there would be a journalist from Travel Weekly onboard – within hours of my arrest it would be front page news. The concessioner and NPS then suggested we should talk and resolve the matter in a more civil way. Baby steps like these gave tour operators open access to the parks over time.
Very slowly, over more than two decades, we made progress in tiny steps. Tour companies began to be welcomed with open arms. Today, nary a park employee or concessioner knows about this past history – and our story is all about the very close, harmonious relationship and history that has developed over time."

Ken Burns American Journeys
Capturing the Majesty
Capturing the spectacles of the national parks and the emotional power they exert on the beholder is a filmmaking challenge…filmmakers Ken Burns and Dayton Duncan describe the challenges of filming national park landscapes: the patience required to catch the best light, the predictability of the weather, and the need to communicate the scale of the subject in terms that stir the emotions of the viewer.

Tauck and the National Parks
Ken Burns American Journeys
One of our key partnerships in North America is with filmmakers Ken Burns and Dayton Duncan, who reflect on the Ken Burns American Journeys partnership, the shared attention to detail, and Tauck's journeys to the national parks. As Ken and Dayton observe: "These folks do what we do, to tell stories of American places – and to show them those places… And you do that by designing, by crafting these tours carefully, with an eye toward the themes and the ideas that will come."

Fairmont in the Canadian Rockies
The Art of Waiting
Since our earliest days in the Canadian Rockies, three resorts – Fairmont Banff Springs, Fairmont Chateau Lake Louise and Fairmont Jasper Park Lodge (part of the hospitality group Accor) – have been our longtime partners. While the hotels were on "pause" (all three are now reopened) David Roberts, General Manager and Regional Vice President at Fairmont Resorts & Hotels, walked through an extraordinarily beautiful, but very empty hotel, on a daily basis. Truly missing the guests who are the heart of the historic properties, he came up with the idea for the "Art of Waiting" – a series of whimsical vignettes combining music and storytelling. Creative and clever, they showcase the extraordinary architecture and expansive, pristine mountain locations of the historic hotels through music and storytelling. Join us for a look at three of these vignettes, along with videos, podcasts and documentaries that tell the story of Western Canada's national parks.
Click here to watch the series

Tauck Bridges Family Vacations
Zion National Park – Hiking the Narrows
The canyons of Zion National Park were made for exploring – and hiking The Narrows, which is the narrowest section of the park, is a favorite activity. You'll get a good sense of what the walk is all about in this short video from Red Rocks & Painted Canyons, our Tauck Bridges Family Vacation to Grand Canyon, Bryce Canyon and Zion National Park. And be sure to take a look at our Western USA national park curated content on a variety of topics, from wildlife to art, explorers, naturalists and more.
Или ещё один тренд 2020 года, займы без отказа
наличными или на карту, отлично себя показал на рынке.
Не так важно, какой вид кредита вы оформляете, важно помнить, что даже займ
на карту придётся возвращать.