A very special family reunion in Kefalonia
It is exactly two years ago this week since we set off for a holiday in Kefalonia which is the largest and one of the most beautiful of the Ionian islands, in Western Greece. We travelled there for a birthday celebration. It may seem like a long way to go for a birthday party, but with my three brothers living in New Zealand, Australia and South Africa respectively and my sister and I living in England, it's not easy to find a central meeting place! As we seldom see one another, we have decided that we will all get together to celebrate significant birthdays. We chose to meet in Greece on this occasion as my (New Zealand) brother and his wife were sailing in Europe at the time, so we all converged on their yacht 'Encore' in this most beautiful corner of The Mediterranean.
This was my first trip to Greece. I had always held a very romantic idea of what a holiday on a Greek island might be like…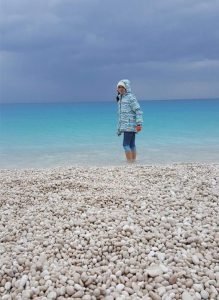 dropping anchor in a deserted bay…
diving off the back of a boat into an azure ocean…
listening to evocative Greek music spilling out of a rustic hostelry onto the pavement…
eating real Greek Moussaka off a brightly painted plate…
savouring the small glistening diamonds of multi-layered honey & walnut baklava served alongside a tiny cup of wickedly strong Greek coffee…
As we set off for Kefalonia these picture-perfect images that I had carried in my mind for so long, only served to worry me as the real thing couldn't possibly be as stunning as I had imagined and I must be on a sure path to disappointment.
Well, how wrong I was to doubt my imaginings! The sights, sounds, smells and tastes of Greece were all so vivid they were almost tactile.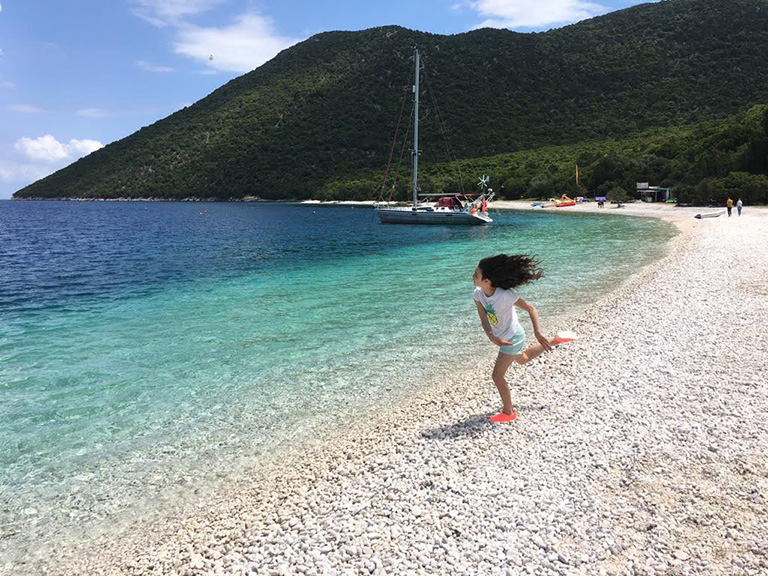 One of my favourite visual memories was at night and was not typically 'Greek'. We had a superb celebratory birthday dinner, sitting outside at a family run restaurant, perched atop the cliff. As the moon rose it lay its shimmering beam across the water in a glistening silver ribbon. I have seldom known the ocean to be as still and as flat.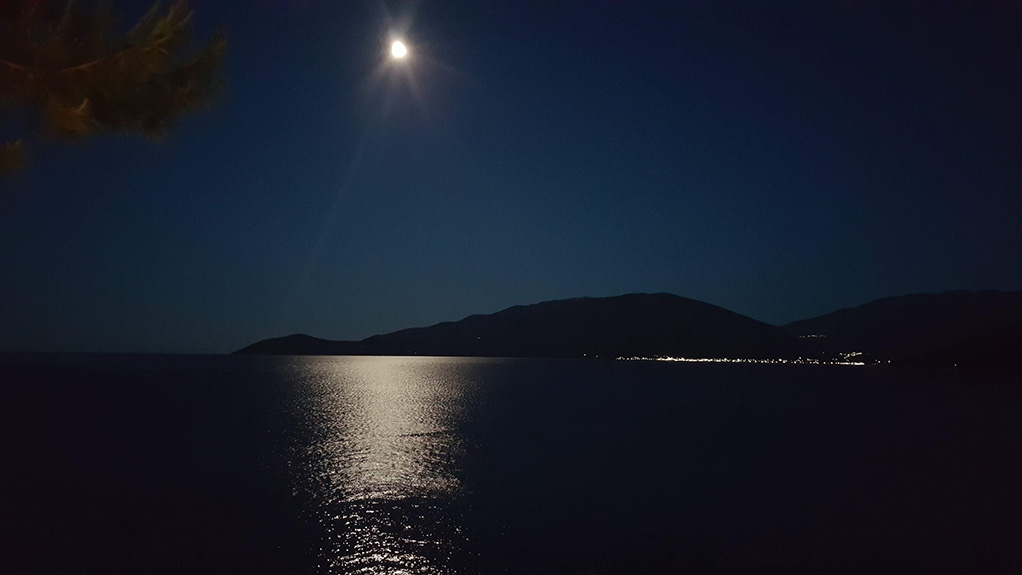 As a chef I could write endlessly about the food which is so simple, honest and bold. We didn't eat anything fancy or pretentious, only fresh authentic food made from lots of locally grown produce. Greek salad is a cornerstone of this delicious Mediterranean cuisine. It relies on just a handful of ingredients each with their own robust flavour. Tomatoes, onions, olives and feta cheese are all diced and then tossed together with fresh oregano, lemon juice and olive oil. I have eaten versions of Greek (style) salad in many corners of the world, I now realise that they were all very poor imposters and nothing like the real thing! I brought home with me a fairly large packet of locally grown and dried marjoram. Even after a couple of years the merest sprinkling of this wildly aromatic herb in home-made tomato sauce or herb bread or on a slow roasted leg of lamb, brings the tastes of Kefalonia right back to me. My girls loved the rich strong taste of locally produced honey, and this was another treat that came home with us. The wonderful tins that it was sold in now stand on their desks filled with pencils as a very happy reminder.
During the past year, when the global pandemic has changed everything that used to be 'normal,' I think we have all grown to notice, appreciate and love the simple things in life. Whilst real holidays are still somewhat of a pipe dream, we can at least reminisce and relive holidays of the past. It is the memories of our wonderful week in Kefalonia that have kept me going during lockdown after lockdown after lockdown! The poster-sized pictures of my girls on the beach, that adorn our walls have been a constant reminder that there is still a beautiful world out there waiting to be explored once again.
Very tragically the vicious 'Storm Ianos' hit Kefalonia on September 18th 2020 causing enormous and extensive destruction. All the boats in the marina where 'Encore' was moored were destroyed. The small parade of shops and restaurants where my girls bought their treasured souvenirs, and where we dined, listened to loud Greek music, ate ice creams and just sat and drank in the atmosphere, was devastated. Many lives and livelihoods were lost, not to mention a sizeable chunk of wonderful Kefalonian heritage.
It is such a privilege to have so many special travel memories, that can't be erased. I continue to cherish each and every one of them, whilst we plan our next adventure.