Thanksgiving is a time for giving thanks. We are especially filled with gratitude this year for our Tauck community of guests, travel advisors, worldwide partners, friends, and family. Each and every one of you are a special part of Tauck; together, we look forward to a new year of travel in 2023!

The origins of America's Thanksgiving are most often associated with the settlement in Plymouth, Massachusetts; Plimoth Patuxet have kindly shared with us some behind-the-scenes stories – and very original recipes – to enrich our holiday.
A message from Plimoth Patuxet about the holiday of Thanksgiving: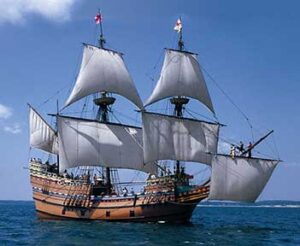 In the Wampanoag way of life, all Beings on Earth were given gratitude for their existence and for their gifts. All of the Nations of Animals, Winged Ones, Water Beings, even the tiny insects were considered to be gifts from Creator to the Humans. Everything had its purpose. All life was considered sacred, and treated that way. In this country, long before English colonists arrived, Native People celebrated many different days of thanksgiving, including, for example, a "Strawberry Thanksgiving" and a "Green Corn Thanksgiving."
The English also had a long tradition of thanksgiving. They declared days of prayer to thank God when something good happened. For example, the English declared a day of thanksgiving in the summer of 1623 when a gentle rain ended a long drought.
Likewise, in the fall of 1621, when their labors were rewarded with a bountiful harvest after a year of sickness and scarcity, the Pilgrims gave thanks to God. They also celebrated their bounty with a tradition called the Harvest Home.
In a letter to a friend in England, "E.W." (Pilgrim Edward Winslow) wrote the only record of the celebration that survives:
"Our harvest being gotten in, our governor sent four men on fowling, that we might after a more special manner rejoice together, after we had gathered the fruits of our labors. They four in one day killed as much fowl as, with a little help beside, served the Company almost a week. At which time, amongst other recreations, we exercised our arms, many of the Indians coming amongst us, and among the rest their greatest king Massasoit, with some 90 men, whom for three days we entertained and feasted, and they went out and killed five deer, which they brought to the plantation and bestowed on our governor, and upon the captain and others. And although it be not always so plentiful as it was at this time with us, yet by the goodness of God, we are so far from want that we often wish you partakers of our plenty."
During the celebration, Massasoit, an important sachem (leader) of the Wampanoag People, along with 90 of his men, joined the English for three days of entertainment and feasting. We don't know for sure why the Wampanoag joined the gathering or exactly what activities went on during those three days. We do know, however, that the celebration occurred sometime between September 21 and November 9, 1621.
Later, in the 19th century, the event entered American popular imagination as the First Thanksgiving.
Plimoth provided us with some early Thanksgiving recipes that we'd like to share:
Nasaump
Nasaump is a traditional Wampanoag dish that is made from dried corn, local berries, and nuts. It is boiled in water until it thickens, and is similar to a porridge or oatmeal.
1 1/2 cups cornmeal
1 cup strawberries, raspberries, blueberries or a combination of all three
½ cup crushed walnuts, hazelnuts, sunflower seeds or a combination of all three
1 quart water
Maple syrup or sugar to taste (optional)
Combine cornmeal, berries, crushed nuts, and the optional sweetener in a pot of water and bring to a boil. Turn down the heat to medium and cook, stirring frequently, for 15 minutes.
Sauce for a Turkey – from the early 1600s
"Take faire water and set it over the fire, then slice good store of Onions and put into it, and also Pepper and Salt, and good store of the gravy that comes from the Turkie, and boyle them very well together: then put to it a few fine crummes of grated bread to thicken it; a very little Sugar and some Vinegar, and so serve it up with the Turkey."

– Gervase Markham, from "The English Huswife," first published in 1615
Sauce for a Turkey – Today
6 medium onions, sliced thinly
2 cups of water
2 teaspoons of coarsely ground pepper
1 teaspoon salt
1 tablespoon sugar
¼ cup red wine vinegar
¼ cup breadcrumbs (optional)
Follow your favorite recipe for roast turkey. Remove the turkey to a platter, reserving the pan juices.
 Place thinly sliced onions in a pot with water and salt. Bring to a boil over medium high heat and cook until the onions are tender but not mushy. A good deal of the water should have boiled away. Set aside for a moment.
 Place the roasting pan over medium heat and stir to loosen any brown bits. Stir in the onion sauce, sugar, vinegar and breadcrumbs if desired. Taste and adjust seasonings. To serve, pour over sliced turkey or serve alongside in a separate dish. The gravy comes from the drippings.
Уверен, что в деле получения займ все ориентируются на сарафанное радио, а не на рекламу кредитов.
Если Вам требуется займ на карту без отказа уже сегодня, то
здесь
вы всегда сможете подобрать лучший вариант.
Подскажите, а на какой срок ваше мфо выдаёт займы без поручителей? Микрозайм выдаётся на срок до 14 дней.
Займы на карту или наличными всегда доступны по ссылке:
credit-n.ru
. Оформите выгодный микрозайм уже сегодня.