Connections 2023
Welcome to Connections, our annual celebration of Tauck adventures and shared memories as seen through the eyes of our family, our staff, our partners and of course, our guests. Enjoy!
A Year to Remember
In an amazing year filled with heartfelt anticipation, unbridled excitement, a few challenges but more successes, friendships new and renewed, and memories of good times shared and more to come, the joys we experienced throughout 2022 were varied, vast and very special to us all.
Thank you for helping make this a year to remember!
Welcome back!
Tauck's all company meetings are an annual event we all look forward to each year. They are informative and engaging with insights about our industry and our roadmap to the future. 2022 marks the first time we were able to hold an indoor meeting since 2019 – and nearly 300 of us showed up, including members of the Tauck family, our Board of Directors (pictured at right), and employees from 27 states and seven foreign countries.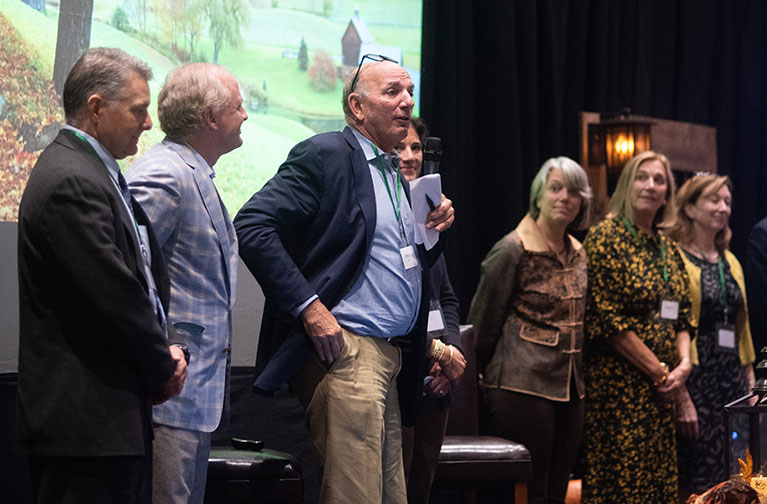 CEO Dan Mahar addressed the gathering with heartfelt opening remarks. "Restarting operations from a complete shutdown was a daunting challenge, but our staged restart in 2021 paved the way for this year's success, and in turn this year's success has given us the experience, resources and momentum to continue moving forward in 2023. It's the people that power our industry and they came together to make dreams come true for so many. Our travel advisors and partner-suppliers were critical to our success this year, and our exceptional restart wouldn't have been possible without them. Once again, we are able to be a positive force for good in our world and we are so appreciative of all the people who played a role in making this happen. Proud 2022 highlights include hosting the same number of guests we hosted in 2019 on trips in 61 different countries and all seven continents with high guest satisfaction scores to match and achieving near record-high advanced bookings for 2023!"
Not surprisingly, there were a lot of happy tears in the room as we celebrated the most pivotal year in the history of our company – and one of the biggest rebounds in the industry, approaching our pre-pandemic levels of guests!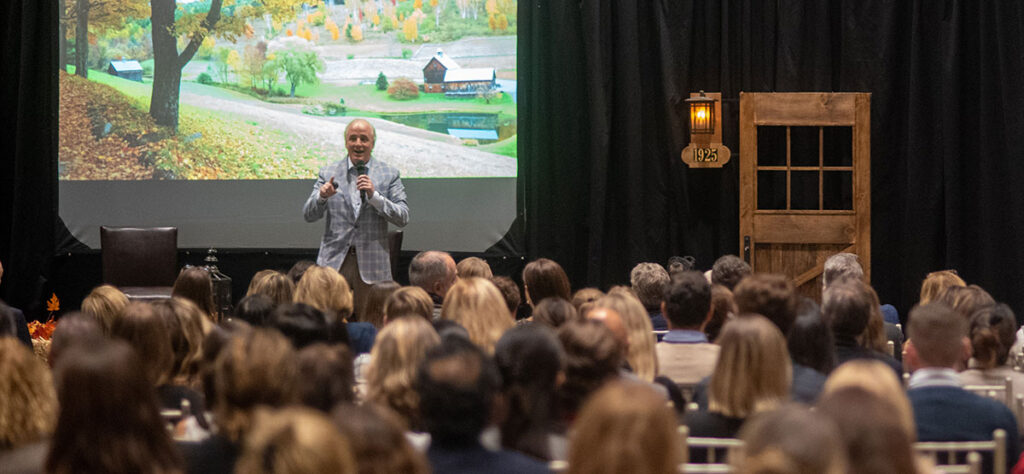 We're honored by your votes
For our 25th consecutive year, we've been recognized on the "World's Best Awards" list, thanks to the readers of Travel + Leisure magazine. What's more, we were the only company named to both the "World's Best River Cruise Lines" and "World's Best Tour Operators" lists. We also were named among Condé Nast Readers' Choice Awards in the river cruise category, another incredible honor we are proud to share with you, our loyal patrons and industry partners around the world. THANK YOU!
Stories from the Road
The letters, emails and photos we receive from our guests speak volumes about their experiences with us and they're the reason why our jobs here at Tauck are so rewarding. We're happy to share a few of them here.
Back to the future
Traveling back in time is part of the fun of visiting places like Italy, especially when you experience activities that families did in the past. On Italia Bella: Rome to Venice, our guests enjoy exploring Florence in vintage Fiat 500s. That nostalgic ride really resonated with Barry Slade, who was traveling with his wife and granddaughter. When he returned home, he sent us a photo taken in 1965 of his very first sports car, a Fiat 500, that was similar to the one his family rode in with Tauck Bridges in Italy in 2022.
The trip of my lifetime
If you remember writing those "How I spend my summer vacation" essays back in school, Ramsie Pittman's report may bring back fond memories of your favorite summer vacation too. Ramsie and her aunt Kelly traveled on the Tauck Bridges' Alaska: Call of the Wild experiencing a lot of first-time experiences she will never forget. From her first views of Alaska aboard the plane, the sled dog puppies she held and the bald eagles she spotted on her jet boat ride to her guided hike, scavenger hunt and homesteader visit, she was hooked on this trip from the get go. Add the kids she made friends with, flightseeing over Denali, kayaking on Kenai Lake, horseback riding, gold panning and the picture-perfect glacier cruise, she experienced many perfect days. What was her biggest takeaway? Learning just how much traveling to Alaska with her aunt meant to her.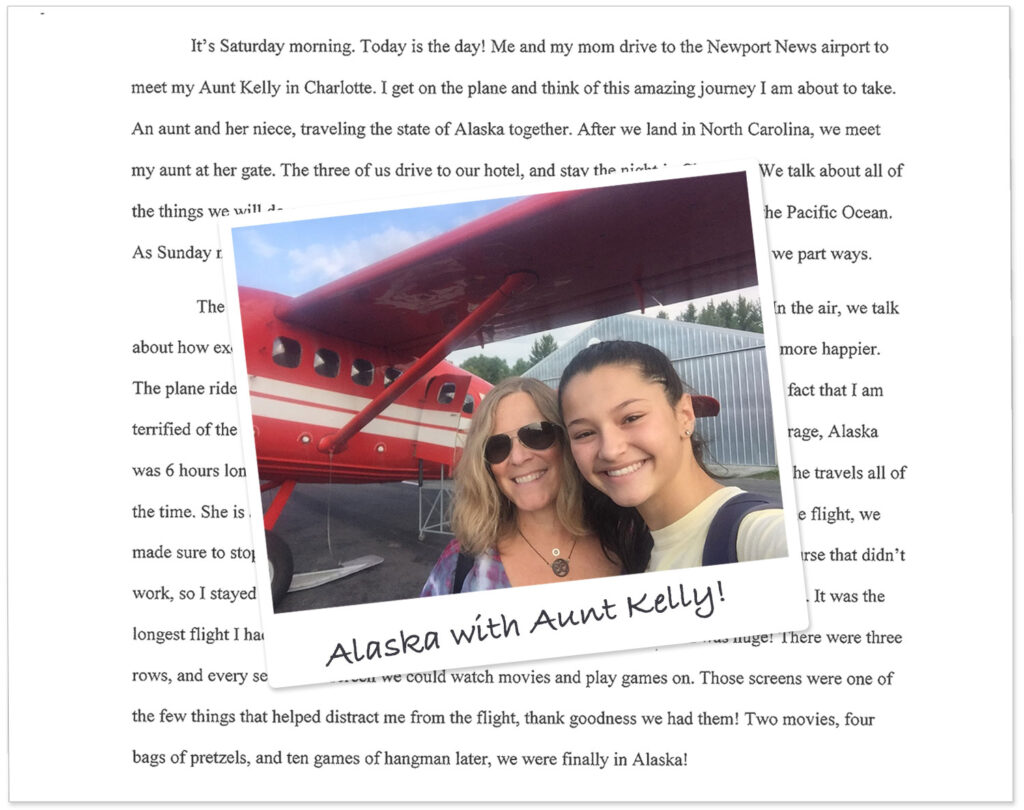 Inside Tauck
The camaraderie that goes on behind the scenes at Tauck mirrors the care, consideration and conviviality our guests and travel advisors feel when they travel with us. It's a true reflection of Arthur Tauck Sr's promise, that "a good time will be had by all."
Dinner at Arthur's
Officially celebrating a true taste of New England, Arthur and Ronni Tauck invite us to enjoy a traditional clambake at their beachfront home every summer. This year, marking our return back to Arthur's beach after a two-year hiatus, three generations of the Tauck family hosted our Wilton headquarters staff for a shorefront dinner delectable in every way. From the smiles on everyone's faces, Arthur more than lives up to the promise his father made in Tauck's first ad in 1925: "We shall be just one happy party, properly chaperoned, out for a real good time."
Old Friends Enjoy Lasting Tauck Memories
Arthur's annual clambakes are a great opportunity to reminisce about old times and Lynn Corcoran and Arthur did just that. Manager of our Business Resource Team, Lynn is one of our longest tenured employees. She joined Tauck's reservations staff in 1987, when Arthur would often stop by and work the phones with her. She recalled how Arthur used to meet the motor coaches that departed from the Waldorf Astoria in New York City for our New England tours year ago, sharing that "I went with him one day and it was one of my highlights to see how much it meant to our guests to meet Arthur Tauck." What were she and Arthur talking about when Dan Mahar took this picture? "We were talking about how it used to be and how we could keep the history of Tauck alive for our new reservationists."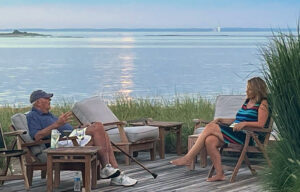 A Seder to remember
Tauck Director Jaime Cojac (pictured below right) is intent about making sure our guests' best interests are top of mind. She was traveling on river cruise Belgium & Holland in Spring during Passover when a group of Jewish guests asked her if they could sit together for a Passover Seder onboard ms Treasures. Jamie was able to gather all of the ingredients for the Seder plate and worked with the chef to prepare everything accordingly. She also printed out a Haggadah so the guests had the appropriate prayers to say. They were beyond appreciative!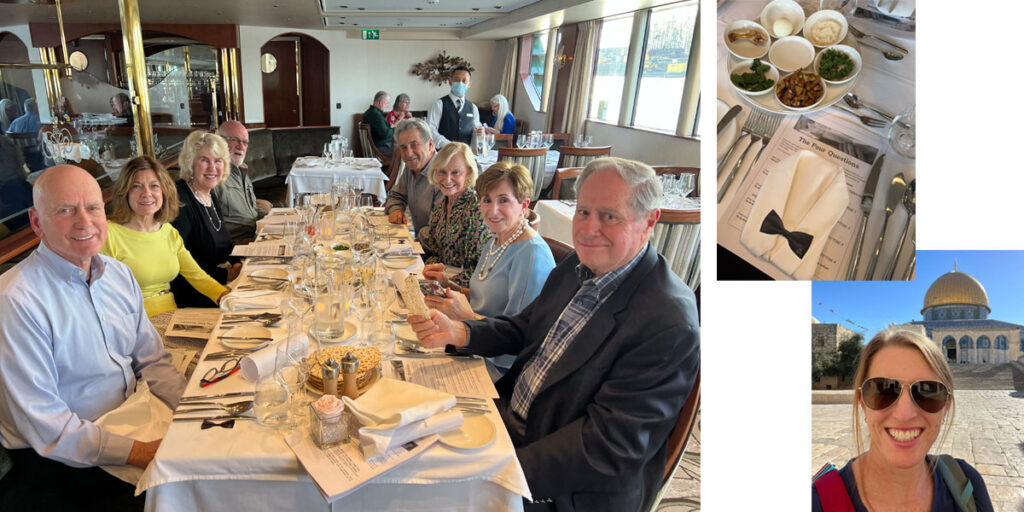 A bumper crop of babies
After we were shut in during the shut-down, we were delighted to welcome a bumper crop of babies to Tauck this year, where a lifelong passion for travel starts early!

Looking Forward
In addition to welcoming guests, past and new, on each of our 150 journeys around the world, we are looking forward to celebrating anniversaries and birthdays, launching new cruises and returning to Japan in 2023.
Debuting in 2023!
Worlds apart, our new cruises have a lot in common
As destinations, coastal New England and Arabia's exotic shores couldn't be any more different, but the shipboard accommodations and service you'll experience on these two new cruises are the same as the ones our guests enjoy aboard all our small ships. The similarities don't stop there. Our included shore excursions on both cruises celebrate the unique cultural influences that shaped the sites you'll see, blending past and present to offer a new perspective on places steeped in history.
In closing…
We hope you enjoyed reconnecting with us through the eyes of our extended Tauck family, which includes you! Reading your stories brings to mind a favorite quote of ours: "Travel leaves you speechless, then turns you into a storyteller." Connections pays tribute to the truth of that saying, and then some. Happy holiday to you and yours – we look forward to traveling with you in 2023.