With the first hint of crispness in the air, the first leaves changing color, and the return of pumpkin everything, it all adds up to the fact that autumn is actually at hand – and the realization that the holiday season truly is just around the corner. For the past decade, sharing the warmth and traditions of the holiday season with guests aboard our special December river cruises along the Danube and Rhine has been one of the best parts of the holiday season for all of us at Tauck.
That same sense of tradition and holiday spirit is what makes the Christmas Markets of Europe so magical as cities and towns along the rivers transform into yuletide wonderlands aglow with bright lights, seasonal culinary treats, and delighted visitors of all ages. Many of our most cherished holiday traditions have their beginnings in Europe – and our November / December river cruises along the Danube explore the sights, sounds and flavors of the season – including the magical Christmas markets.
We've put together a collection of stories that share insights into some of Europe's most popular Christmas Market holiday traditions, along with a few videos to give you a first-hand look at Christmas Markets along the Danube and Rhine: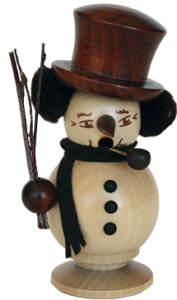 "Rauchermen" incense burners
Air-freshening incense has been popular throughout the world for centuries.  In Germany, incense smokers in the shape of colorful carved small men, or Rauchermen, are a more recent development that had their origins in the late 1600s (in the same Ore Mountains region of Germany famous for its nutcrackers and Christmas pyramids).  Rauchermen are typically carved to portray everyday working men, including farmers, chimney sweeps, miners, shepherds and more, and it's been theorized that their celebration of the common man is behind their widespread and enduring popularity.Today, many German families light incense on January 6th, also known as the Epiphany; the 12th and final day of the Christmas celebration, which starts on December 25th. The Epiphany is traditionally considered the day the three wise men visited a newborn Jesus in Bethlehem and bestowed gifts of gold, frankincense and myrrh; the latter two being forms of incense. Derived from tree sap, both frankincense and myrrh are equally prized for their strong medicinal properties.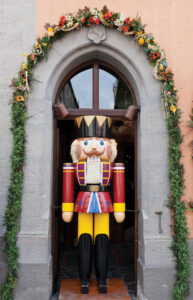 Nutcrackers
The heavily forested Ore Mountains of southeastern Germany were named for the silver and tin that were mined there and provided the majority of local jobs for centuries. However, as the deposits ran out in the 17th century and residents were forced to find other work, they turned local woodcarving traditions into the region's premier industry. In the process, they helped popularize nutcracker dolls, Christmas pyramids and other wooden curios now synonymous with the holiday season.
In the US, nutcrackers were popularized by soldiers returning from Europe after World War II, who brought the dolls home as souvenirs. And of course, Tchaikovsky's ballet The Nutcracker (which enjoyed its American premiere in San Francisco on Christmas Eve, 1944) has forever enshrined the square-jawed wooden soldier as a symbol of the holidays.
Stollen
The stollen was originally a medieval fasting pastry. The cake's distinctive shape is said to emulate the newly-born Jesus neatly wrapped in swaddling clothes. The most famous is the Dresdner Christstollen, which was first mentioned in 1474. At that time it consisted only of flour, yeast and water. Since the Saxons have always been a connoisseur, Elector Ernst von Sachsen and his brother, Albrecht, asked Pope Innocent VIII to lift the ban on butter. The Holy Father agreed and sent the "Butterbrief" to Dresden in 1491. From then on, the stollen bakers were also allowed to use more substantial ingredients.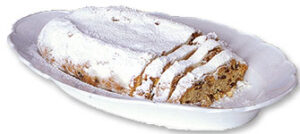 Today, raisins, butter, sweet and bitter almonds, orange peel, candied lemon peel, flour, milk and yeast, granulated sugar, clarified butter, lemon peel paste, table salt, powdered sugar and selected spices are the official ingredients of the dough. The Dresdner Christstollen is part of the European register of protected designations of origin and geographical indications. Stollen is also baked in other regions, such as in the Saxon Ore Mountains in different variations.
Marroni (roasted chestnuts)
The taste of roasted chestnuts (available at most Christmas markets) has been likened by one reviewer to "a cross between roasted sweet potatoes and walnuts." For most of us, though, chestnuts gained holiday immortality by "roasting on an open fire" in the opening line of The Christmas Song. Few realize, however, that The Christmas Song actually has its roots in our current month of July.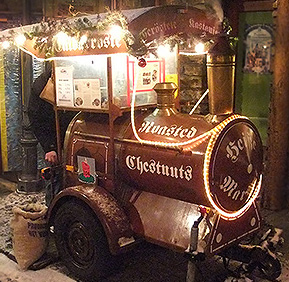 On a sweltering July afternoon in 1945 (well before air conditioning was common), a singer/songwriter named Mel Tormé arrived at the LA-area home of his lyricist, Bob Wells. On Wells' piano, Tormé spotted a pad of paper with four scribbled lines:
Chestnuts roasting on an open fire
Jack Frost nipping at your nose
Yuletide carols being sung by a choir
And folks dressed up like Eskimos
When asked, Wells said he'd written the lines to program his mind with thoughts of wintertime and cooler temperatures. Tormé recognized the beauty of the imagery immediately, and quickly set about crafting a suitable melody.  Some 45 minutes later, the song was complete. Today, it's considered the most frequently-recorded holiday song of all time, having been covered by more than 120 artists ranging from Frank Sinatra to Bob Dylan to Justin Bieber.
Glass ornaments
As with so many other holiday traditions, glass Christmas tree ornaments are widely believed to have originated in Germany – more specifically in this case in Lauscha, a town midway between Leipzig and Nuremberg that has been a glass-blowing center since the late 1500s.
The first glass ornaments, or Glaskugeln, date to the 1800s and were blown in the shapes of fruits and nuts.  (To this day, a pickle-shaped ornament in Germany denotes good luck.) The popularity of glass ornaments surged after England's Queen Victoria decorated the royal Christmas tree with ornaments from her husband Prince Albert's homeland in Germany. Later, glass ornaments were popularized in the U.S. by retailer F.W. Woolworth who first discovered them in 1880.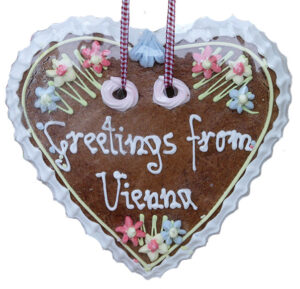 Gingerbread cookies
Ginger in various forms is found in many of the world's cuisines, and it's easy to forget that it was once an exotic spice in Europe that only reached the continent with returning soldiers of the Crusades. Today, of course, it is the signature flavor in the gingerbread men cookies populating many Christmas Market stalls.
Nürnberg, Germany came to be known as "the gingerbread capital of the world" where the local round "Lebkuchen" is often baked from a proprietary mix featuring cardamom, cloves, cinnamon, white pepper, anise and ginger.  The tradition of cutting gingerbread cookies in the shape of a person, however, originates on the other side of the English Channel. According to lore, Queen Elizabeth I welcomed important guests with gingerbread men created in their likeness.
Christmas pyramids
Although combining small pieces of wood and open flames in a toy might seem like a bad idea, Christmas pyramids have been popular for centuries. Originally hung from the ceilings of German homes – another questionable idea? – they eventually spread across Europe and were brought by German immigrants to America in the 1700s.
In a clever use of thermodynamics, a propeller at the top of the pyramid is activated by rising air heated by several lit candles below, rotating the propeller and the axle on which it spins. The axle in turn rotates a small diorama below the propeller that's populated by carved wooden figures (nativity scenes are especially popular). Simple pyramids have a single tier (and thus a single diorama), while more ornate and elaborate examples can have five or more levels with different scenes on each. Life-sized versions of Christmas pyramids, brilliantly lit and mechanically powered, can be found in a number of European cities during the holidays.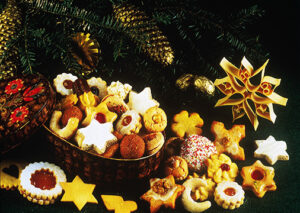 Christmas cookies
Christmas cookies are popular the world over, and a number of varieties can be found throughout Europe's Christmas Markets. Among the most popular are Vanillekipferl, small biscuits make with ground almonds or hazelnuts, shaped into crescents, then baked and rolled in powdered vanilla-flavored sugar.
Vanillekipferl originated in Vienna and are now found in many countries, serving as the signature cookie of the medieval town of Nördlingen in Bavaria. If one legend is to be believed, the cookie's distinctive crescent shape celebrates an Austro-Hungarian Empire military triumph over the Turks, whose national flag prominently features a white crescent and star on a red field.
Prune people
An old Nürnberg saying maintains that "with a prune man in your house, money and happiness stay, too." Hopefully that's true, and with a bit of TLC, these colorful figurines crafted from prunes, figs and walnuts on a wire frame will themselves stay in your home for years.  Beyond the occasional dusting, the only other care required is the periodic removal of any grayness from the dried fruit. Rest assured it's just sugar – not mold – and a little alcohol will do the trick.
Zwetschgenmännles, the official tongue-twisting name for prune people, have been sold at Christmas Markets for decades.  According to lore, the first Zwetschgenmännle was created in Nürnberg in the 18th century by a father of humble means to please his children at Christmas. With no gifts to share, the father fashioned figurines out of materials at hand (a plum tree stood in his front yard), and a tradition was born. The prune-based progenitor was short-lived, though, as the children quickly consumed the dried fruit.
Beeswax candles
A natural compound produced by honey bees of the genus Apis, beeswax has been found in Egyptian tombs, in Roman ruins, and in wrecked ships of the Vikings.Through the years, it has been used in the manufacture of cosmetics, in an ancient type of dental tooth filling, to form the mouthpieces of Australia's didgeridoo, and to stabilize a military-grade explosive called Torpex.
Beeswax candles are a popular item in many Christmas markets; they burn with a golden glow and they smell – perhaps not surprisingly – of honey. You'll likely find them in a dizzying assortment of shapes, from classic tapers to angel-inspired figurines to delicately crafted Christmas trees.
Nativity scenes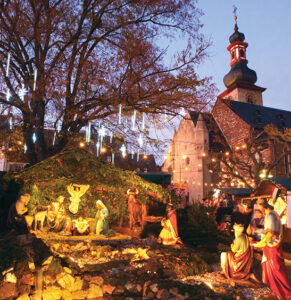 Europeans take their nativity scenes seriously! In Köln, for example, nativity scenes have been on public view in over 100 places around the city from late November through the Epiphany (January 6).  The displays ranged from contemporary to traditional, celebrating Christmas traditions in other cultures and drawing from a number of historical periods.
It's not surprising, then, that nativity scenes of a seemingly endless variety are such popular souvenirs among Christmas market shoppers. Interestingly, crèches (as nativity scenes are also known) were once a far more regional symbol of Christmas in Europe.  After the Protestant Reformation they remained more popular in the southern part of the continent (where Catholicism remained prevalent), while northern Europeans adopted the evergreen tree – common locally, and specially decorated for the season – as their Christmas symbol of choice.
Another interesting fact: St. Francis of Assisi is credited with staging the first nativity scene, setting up a manger with hay, an ox and a donkey, in the Italian village of Grecio in 1223.
Glühwein Mugs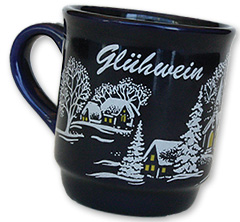 Mulled wine traces its roots back to second-century Rome, spreading through Europe with the Roman's conquest of the continent. Glühwein, a mulled, warmed wine, is emblematic of Christmas in Germany and France's Alsace region, and it's traditionally prepared from red wine spiced with citrus, cinnamon, star anise, cloves and sugar.
A great Glühwein-related souvenir (far better than a hangover!) is one of the traditional mugs in which it's served. The oldest documented Glühwein goblet dates back to the early 1400s; it was crafted from gold and silver, owned by the German nobleman who first cultivated Riesling grapes. Today's mugs take a variety of whimsical forms, with many in the shape of a boot.
Wander through Europe's Christmas Markets
Exploring…
Если залог и поручительство не требуется при оформлении займа, то как банк обеспечивает безопасность такого кредита?
А в чём выигрыш по сумме, при оформлении онлайн займа без отказа на ту же карточку? Ничего, кроме высокого процента.
Займы на карту без залога выдаются круглосуточно, так как это происходит автоматически.